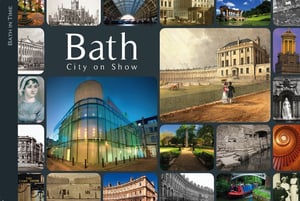 £

9.99
The first publication from the extensive online archive at Bath in Time.
Featuring a choice selection of historical images of Bath, displayed in juxtaposition with stunning present day photographs of the city. The perfect keepsake for visitors, residents and scholars, designed to celebrate this World Heritage City for it's Georgian architecture, hot springs, lively street entertainment and unique setting.
All of the major landmarks are beautifully captured, and the authoritative text guides the reader with interest through the history of this remarkable location.
Stylishly designed with 130 colour and 50 black and white illustrations throughout its 128 pages.
You can read the first review of it here
To see a short animated film of each page click here
Free postage to the UK